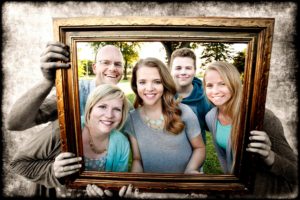 Welcome to Center Stage Stamping! My name is Mary Haugen. My husband Brett and I have 3 amazing children, 1 terrific son-in-law, and 2 crazy dogs.
In 1996, the first time I put stamp to ink to paper, I was hooked. I would stamp an image on a folded piece of white card stock and color it in. In 1998, I was introduced to Stampin' Up! and colored inks and paper! Who knew you could layer papers and add ribbons and other embellishments! After several years of creating, I wanted to share the joy I found in this art form with others. I became a Stampin' Up! Demonstrator in 2001.  As my collection of supplies grew, I became frustrated with my storage options. I found that if I didn't have stuff where I could see it, I wouldn't use it. So, I sweetly asked my Mechanical Engineer husband to design and build something to hold my ink pads, refills and markers. He came up with a great design that I loved! We thought maybe other crafters could use better organization and our business, Stamp-n-Storage, was born.
I also have a passion for Theatre Arts. I Have Directed shows for Community, High School and Middle School and Children's Theatre and performed in numerous shows over the years.